Rewards Program
Welcome to Club S
Club S is a rewards program designed to provide our valuable customers access to greater convenience and benefits at Sony Bank. There are three stages – Silver, Gold and Platinum – which are determined based on your transaction status.
Platinum
Gold
Silver
No level
Benefits
Cashback rate
2.0%
on purchases with Sony Bank WALLET in Japan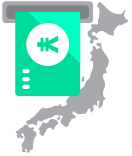 Fee-waived Cash withdrawals
Unlimited
at partner ATMs in Japan
Fee-waived fund transfers
Up to 11 times
per month, when transferring Yen
Fee-waived overseas ATM usage
Up to 5 times
per month
Exchange fee
0.04 JPY
per 1 USD
Fee-waived outgoing foreign currency remittance
Up to 3 times
per month
Platinum criteria
Your foreign currency deposit balance is equivalent to 10 million yen or more at the end of the month.
Learn more about details and calculation method of Club S criteria